THANKS FOR THE MAMMARIES – Penguin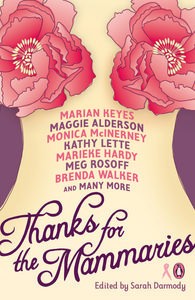 Editor: Sarah Darmody
Half of the world has them. Some of us have lost them. Some of us would like to. The rest of us can't stop looking at them!
Breasts unite women in a way few other things can, and these entertaining stories from some of the world's most popular female authors celebrate bosoms great and small. Explore the dark, sexy underbelly of Paris with Kate Holden, enjoy a fractured fairytale from Meg Rossoff, let Jools Oliver share her warm tales of breastfeeding her babies with a very famous Naked Chef, and laugh at Kathy Lette's 'Ode to Barbie', Maggie Alderson's imaginings of walking a mile in another woman's bra cup, and at Merridy Eastman's hysterically funny department store bra fitter, Irene.
All royalties from sales of this book will go to the National Breast Cancer Foundation (NBCF). The NBCF is the leading community-funded national organisation in Australia raising money for research into the prevention, detection and treatment of breast cancer.
JUST BETWEEN US – Pan Macmillan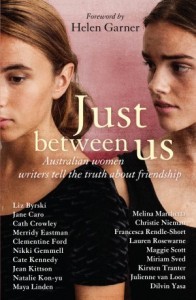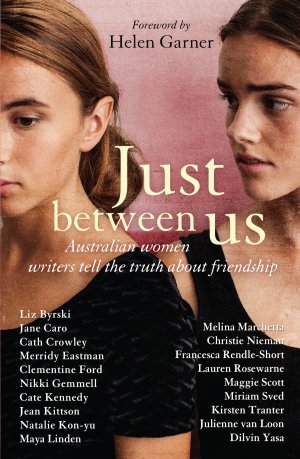 In Just Between Us, a host of Australia's best-loved female writers bare all on this age-old quandary: Are female friendships all-natural and nurturing? Or are some more damaging than delightful? And most of all, what happens when female relationships go off the rails? And who is to blame? While falling in and out of romantic love is a well-documented experience, losing a friend rarely gets discussed. Which doesn't mean the pain is less – quite the opposite, as we discover in this extraordinary collection of heartfelt fiction and non-fiction works that put female friendship in the spotlight.
Nikki Gemmell looks at the hardwiring that keeps us bonded in tightly knit packs, but makes us feel oh-so-claustrophic in mothers groups and at the school gate. Melina Marchetta reveals the peculiar shame of being overlooked for the high-status netball positions of Centre and Goal Attack. Liz Byrski conducts a forensic examination of her own friendship history, and finds some uncomfortable patterns. And Merridy Eastman pens a letter from Helena to Hermia from A Midsummer Night's Dream, which shines the light on one of literature's most famously dysfunctional female friendships.
BREAST WISHES – a new Australian musical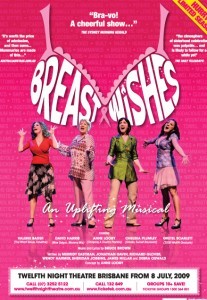 A celebration of breasts and those who support them, Breast Wishes is written by some of Australia's most respected comedic and dramatic writers including Merridy Eastman, Jonathan Gavin, Richard Glover, Wendy Harmer, Sheridan Jobbins, James Millar and Debra Oswald, with music and lyrics by Bruce Brown. Original concept by Anne Looby. .
Meet four women – sisters, mothers, daughters, cousins. Add a fumbling boyfriend, a well-meaning husband, a bra-fitter who's seen it all, some show-stopping numbers and a brilliant cast with direction by Jason Langley, musical direction by Michael Tyack, choreography by Nathan M Wright, dramaturgy by James Millar, original production design by Imogen Ross, lighting design by Trudy Dalgleish and sound design by Michael Waters you have a small musical about big issues.
A sophisticated and hilarious glimpse of cleavage and beyond which promises to make your heart sing. Proudly supporting the National Breast Cancer Foundation.
EVERYBODY LOVES LUCY – Cabaret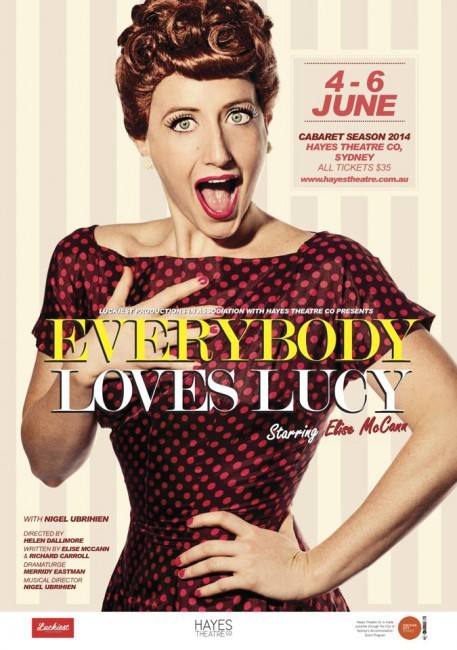 Brimming with Lucille Ball's irrepressible spirit, acclaimed Australian theatre star Elise McCann (Mamma Mia, South Pacific) presents a tribute to a true trail-blazer.
With Nigel Ubrihien
Directed by Helen Dallimore
Written by Elise McCann and Richard Carroll
Dramaturge: Merridy Eastman
Musical Director: Nigel Ubrihien
Choreographed by Christopher Horsey