ABOUT THIS BOOK
'I have several young busty blondes, Derek,' Ruth sang like the weather girl. 'One is a very sexy Danish girl, just back from a skiing trip, five-foot-five, long wavy blonde hair, blue eyes, twenty-five years old. A fantastic figure: thirty-six, twenty-five, thirty-five. Or I have a more demure, very pretty, young strawberry blonde Australian, Derek. She's nineteen … '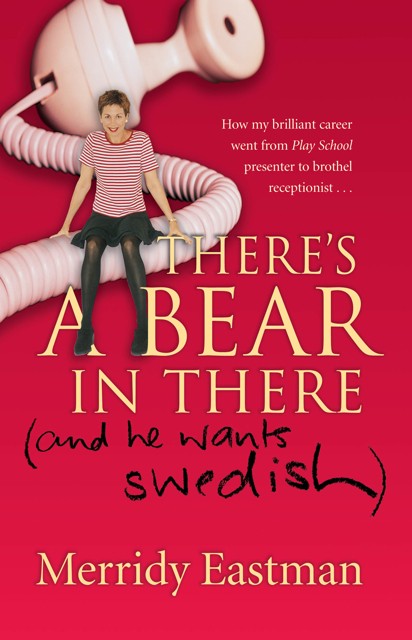 When her acting career stalls, Merridy Eastman lands a challenging role: night receptionist at a Sydney brothel. A long way from the bright lights of a TV studio, she is swept into the high drama of the sex industry.
This former Play School presenter learns words for items and acts she never imagined, she opens the door to first-timers, old hands, couples and the occasional celebrity.
But the place she spends every moment she can is the kitchen table, having a cup of tea and discussing investment portfolios, and life's many great mysteries, with Sapphire, Shelby, Antoinette and Bree – the women who make a living from having sex with strangers.
And then, in this most unlikely of places, she finds herself falling in love … almost.
There's a Bear in There (And He Wants Swedish) is a funny, fascinating and near-as-dammit true account of a forbidden world, told with a lively sense of the absurd and a rare and forgiving understanding of human frailty.
REVIEWS:
"This author is a natural writer with a gift for prose that has timing, comedy, insight, pathos and glorious readability."  The Sunday Telegraph
"Eastman's wonderfully titled tales from the dark side … are always witty, sometimes scathing, occasionally poignant."  The Weekend Australian
"[This] book is infected with a delightful sense of the absurd that elevates the subject matter – an insider's account of life in a brothel – from the sordid to the surreal … a magic carpet ride into a forbidden and fascinating world that most of us will never even glimpse."  The Australian Women's Weekly
"[Eastman's] story of her year's employment on the edge of the sex industry is absorbing for the insights we are given of the workers and clients. If you want a few good belly laughs, you need to read this book."  The Newcastle Herald
"Eastman's account of life inside a Sydney brothel is entertaining, voyeuristic and written with great sympathy for the women."  The Daily Telegraph
"The transition from Play School anchor, stage and television actor to someone taking bookings from punters in a brothel, is evoked with humour, wit and a constant sense of surprise … this book gives readers much to laugh over." The West Australian
"Eastman writes unsentimentally, without gravitating toward any particular soapbox. Her anecdotes are often hilarious, her style easy and inviting, which makes the tragedy of some of the women's stories all the more potent." Island, literary journal
"[a] smart, funny, sympathetic book."  The Times (UK)
"Eastman has collected her experiences into a very funny and perceptive account of modern prostitution."  The Observer (UK)
WISH TO BUY?
And the ebook is now available from a number of vendors, including the following:
If you'd rather listen to the book, narrated by Merridy, you can find it at: