ABOUT THIS BOOK
In her first book, There's A Bear In There, Merridy Eastman led us into the forbidden world of a Sydney brothel where she once worked as a nervous receptionist. In Ridiculous Expectations she packed us up and took us with her to London on her British book tour where, instead of finding Mr Darcy as promised, she was swept off her feet by a tall German called Tom. Who knew?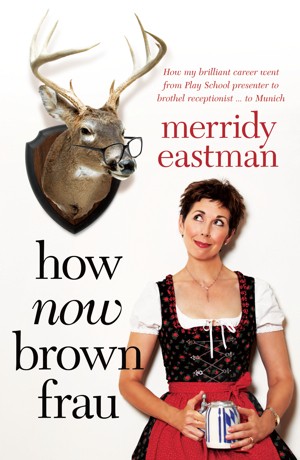 In her third book, How Now Brown Frau, Merridy shares with us the hilarious consequences, plunging us headlong into her new life in Bavaria where she takes up residence four months pregnant and without a word of German under her belt.
Here we meet Merridy's conventional Bavarian in-laws, climb excruciating language barriers (not to mention a few alps) and grapple with a culture that seems at times to be on another planet. A whole world of challenges opens up before us – the food, the weather, the customs, the traditional religious greetings, the silence on public transport, and of course the Freikörperkultur, or nudism, acceptable even in Munich's central public gardens.
But with help from the new friends she makes there, Merridy grows to love the beautifully restored ancient city, and realise that travel doesn't just broaden the mind, it can also open the heart.
How Now Brown Frau is laugh-out-loud funny and all the more so for being completely true. This is What Merridy Did Next.
REVIEWS
'I was au-pairing in Germany when my employer insisted that I re-peg the washing because I hadn't paired or grouped similar items. The disorganisation — oh shame! — was visible from the street. So when Aussie actor, author and former Play School presenter Merridy Eastman described in disbelief how Tom, her German fiance, dresses neatly before opening the door to tradesmen, I smile understandingly. In fact, I smiled nearly all the way through How Now Brown Frau. Eastman's account of her five years in Munich as fiancee, bride and mother-at-42 bubbles along so cheerily, even in times of stress and family trauma. She turns coping with German punctiliousness, initially so hard for noisy, easygoing Aussies, into an opportunity for fun. Meeting friends and the in-laws, giving birth by caesarian, travelling on trains — all without the German language — and then attending language classes — all fall under the spell of her pen. If she exaggerates at times, for example when describing how slow she is to leant German, it's all for the purpose of entertainment. And Eastman's descriptions of Munich and its celebrations outdo the efforts of travel guides. There are books aplenty on 'how I survived culture shock and learned to love the locals'. The good ones are well written, perspicacious and warm. How Now Brown Frau is such a book.' Barbara Baker, Good Reading Magazine
'In this third book, Eastman pairs a well-established voice with wonderfully fresh material. Her style is a little like a cleaner, female version of David Sedaris … How Now Brown Frau should appeal to a wide audience and leave readers hungry for the next installment.' Anna Forward, The Mercury
'Merridy captures the challenges of her new life with a great sense of humour and keen observation. How Now Brown Frau is a witty and poignant memoir of a woman falling in love with her husband, motherhood and a country. In all, an entertaining read.'  Shelley Rae, Book'd Out
INTERVIEW
Listen to Merridy chat to ABC Radio's Chris Wisbey here: Merridy Eastman

WISH TO BUY?
And the ebook is now available from a number of vendors, including the following: